This morning I finished Psalms (didn't think I'd ever get here. seriously) and 1 Timothy. It is impossible for me to even begin to sum up the things I've learned from Psalms. So many. Overall, I think I like the constant reminder to praise God the most. Praise God when your life is in danger. Praise God when you are terrified. Praise God when life is going perfectly. Praise God when you are overwhelmed. Praise God when he seems like He's not there. Praise God when you have no doubt He Is there. David so beautifully lives this life of praise and thanksgiving- no matter the circumstances in his life. How often do we get caught up in all the little things adding up and forget to praise God? How often do we question why God is doing what He's doing, the way He's doing it, His timing? Yet even in those moments of darkness and question, we should find ourselves falling onto our sure foundation that God is

good.

That He

loves

us. And when we stop to remind ourselves of all the gifts God has given, even when the earth gives way, how can we doubt his goodness and his love? We just can't. His love is too immeasurable, too beyond our imagination. If we can do nothing else, we can praise Him. I love that.

My favorite verse in 1 Timothy goes along really well with this idea.

For everything God created is good, and nothing is to be rejected

if

it is received with thanksgiving, because it is consecrated by the word of God and prayer. ~ 1 Timothy 4: 4-5


It's the thanks that makes us able to receive everything. The thanks that helps us understand its good. The thanks helps us use the gift wisely. The thanks humbles us and reminds us to share the gifts we have. The thanks helps us accept the things that don't make sense. The thanks helps us live through the pain. There is so much we so hastily want to reject in life because it hurts or its uncomfortable or it doesn't fit our personality or whatever. Yet if we believe in the holiness, the goodness, the sovereignty of God, we should consider it good. We shouldn't reject any of those things, but receive them with thanksgiving. With a Yes, Lord, I will follow you

there

. I trust you

there

. I believe you created all things good and you hold me even

there

. When we give thanks for it all we are consecrating the situation/our lives as holy and we are worshipping. Thanks is what allows us to take any situation and accept it as good. Because we know Him who has made it, and He is good.

I know from experience that it can be scary and oh how it can hurt. But I also know that the strength of God's presence in those times is worth more than all the things I want. I love the story of Joseph. So much fear and pain and rejection and loneliness dominated his life. I can't imagine 40 years of just straight pain. Yet he always knew God was faithful. One of my favorite life verses for pain is this:


Genesis 50: 19-20 ~ But Joseph said to them, "Don't be afraid. Am I in the place of God? You intended to harm me, but God intended it for good to accomplish what is now being done, the saving of many lives.


I love the thought that my pain is being used to save many lives. Sometimes there isn't much comfort to be seen. But you can know that God is good. And you can know that God orchestrates the beautiful saving gospel through pain. After all, the gospel and salvation came through the death of His own Son.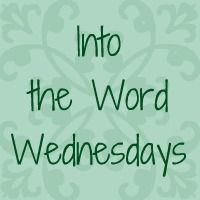 Becky at Tales of Beauty for Ashes
Kelly at The Houtz House Party
Falen at
Upward Not Inward
Kelly at Exceptionalistic